I'll be joining over 65 other blogs in a blog hop this weekend.
Here's the basic info.
Easter Hoppin Blog Hop
April 15th - 17th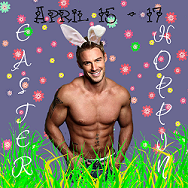 Hosted by Danielle of Lush Book Reviews
And
(this link will take you to the original post I used for the info)
What - Easter Hoppin Blog Hop Giveaways
When - 12:01 AM April 15th until 11:59 PM April 17th
Where - All around the blogging world!
These dates were chosen because we did not want to take time away from your family and other things going on Easter weekend.
There will be great giveaways at each stop along the way.
Hope all my friends will join us for the blog hop and I hope I make a lot more friends during the blog hop.