Hey there everyone.
Welcome to my blog.
This is the first time I ever participated in a Blog Hop. Hope I don't embarrass myself to much.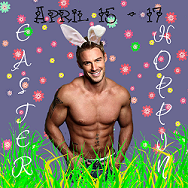 This Blog Hop is hosted by Danielle of
Lush Book Reviews
and JoJo of
JoJo's Book Corner
What
-Easter Hoppin Blog Hop Giveaways
When
-12:01 AM April 15th until 11:59 PM April 17th
Where
-All around the blogging world!
(These dates were chosen because we did not want to take time away from your family and other things going on Easter weekend.)
Every blog along the hop will be having their own giveaway. There is a complete list of all the blogs participating at the bottom of this post.
For my give away, all you have to do is take a look around my blog and make a comment about something you found here, good or bad. Just keep it polite, please.
For every 15 comments I get, I'll pick one winner(up to 4 winners total). Each winner will get to pick their choice from a list of books.
I won a box of books last year and figured that the ones I don't want to read or already had could use good homes.
Here's the list-
in mass market paperback-
Lucky Charm by Carly Phillips
Tempting the Marquess by Sara Lindsey
Ravished by a Highlander by Paula Quinn(this one in an ARC)
(claimed as prize)
A Season of Seduction by Jennifer Haymore(this one is as ARC)
Bound by Darkness by Annette McCleave
(claimed as prize)
in trade-size paperback-
Such A Pretty Face by Cathy Lamb(Advance Uncorrected Proof)
Revenant by Phaedra Weldon
The Feather by Red Garnier
Open Country by Kari Warner
Hearts Divided by Joanna Sundell(Advance Uncorrected Proof)
Tempting Eden by Margaret Rowe
The WWW Club by Anita Notaro
Hopefully the winners will find something they like on the list.
So go forth and comment.
Please leave your email address in the comment. I'll be announcing the winner(s) on Monday, probably in the afternoon.
Here's the list of the other participating blogs.
Update:4-20
The link for this no longer works anywhere except on the hosting blogs.